Dustin J. Gardner, OD, MS, FAAO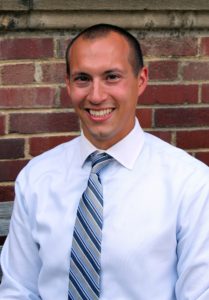 Dr. Dustin is originally from Youngstown, Ohio. He attended all of his education and training at The Ohio State University, which is where he met his wife, Dr. Valerie (Bornhorst). After graduating together, they knew they would one day like to have a practice together and be able to serve their community. Dr. Dustin, however, also developed a passion for specialty contact lenses. He was accepted into a 2 year advanced practice fellowship at OSU, where he focused on cornea and contact lenses. After completing this program he decided to teach at OSU for a while where he could pass on his knowledge and experience to the future generations of Optometrists, while also seeing patients in private practice. He has extensive training and experience with a variety of specialty contact lens cases that include high corrective need, bifocal, astigmatism, and irregular corneas. He is excited to now be providing his care and expertise to this community!
Dr. Dustin lives in Minster with Dr. Valerie and their 3 daughters. They are active members of St. Augustine's Catholic Church. In his spare time, he enjoys spending time with his kids and loves to travel.