Gene F. Knapke, OD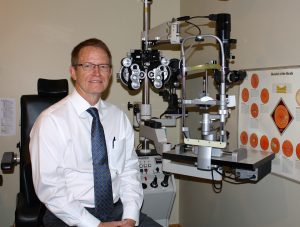 Dr. Knapke is a native of Minster, Ohio. He attended The Ohio State University where he received a Bachelor of Science in Physiological Optics in 1981 and Doctor of Optometry in 1982. He worked in private practice in Springfield until 1985 when he and his wife, Norma, moved back to the area and started New Bremen EyeCare. The practice was originally opened at the current location of the New Bremen Coffee Company on Monroe Street. In 1993, they moved the practice to its current location on Washington Street.
Dr. Knapke practices general optometry and has a special interest in diagnosing and managing ocular diseases such as dry eye disease, diabetic retinopathy, glaucoma, and age-related macular degeneration.
Dr. Knapke is a member of the American Optometric Association and Ohio Optometric Association for which he previously served as Zone 10 Governor. He is also a member of Vision Source, a national organization of independent optometrists dedicated to continually finding new ways to provide advanced, personalized eye care for patients.
Dr. Knapke lives in New Bremen with his wife, Norma. They have three children, Mark, David, and Elizabeth, and six grandchildren. He is active in church choirs and other choral groups. He enjoys reading and spending time with family.